We're so glad you're here.
At Panorama Therapy, we offer a safe, supportive, and non-judgmental space for all to explore emotions, relationships, and personal growth. We understand that everyone experiences challenges in their lives and that seeking therapy can be an important step towards healing and creating a more fulfilling life. We welcome individual adults, couples, and groups from all walks of life and backgrounds, whether within or outside our specialized populations.
Perhaps none of the other Services pages speak exactly to who you are. Maybe you fall outside these identities or you're over labels entirely. The biggest predictor of your benefitting from counseling is your therapeutic relationship with your therapist. If you think Panorama Therapy would be a good fit, however you see yourself, we'd love to hear from you.
Panorama Therapy's Licensed Psychologists are specialists in therapeutic topics including:
relationships, connection, and disconnection
sexual & gender identity
self-worth & self-compassion
racial, ethnic, and cultural identity
high achievers and adulting struggles
family of origin concerns
meaning & purpose in life
depression, discontentment, and dissatisfaction
psychedelic integration
personal development
vocational (career) growth
Panorama Therapy psychologists know that therapy is not a one-size-fits-all approach, and we tailor our services to meet each client's unique needs and goals. We offer individual therapy, relationship therapy, and group therapy over telehealth.
Location
Our Services are available to clients located in 34 states: Alabama (AL), Arizona (AZ), Arkansas (AR), Colorado (CO), Connecticut (CT), Delaware (DE), District of Columbia (DC), Georgia (GA), Idaho (ID), Illinois (IL), Indiana (IN), Kansas (KS), Kentucky (KY), Maine (ME), Maryland (MD), Michigan (MI), Minnesota (MN), Missouri (MO), Nebraska (NE), Nevada (NV), New Hampshire (NH), New Jersey (NJ), North Carolina (NC), Ohio (OH), Oklahoma (OK), Pennsylvania (PA), Tennessee (TN), Texas (TX), Utah (UT), Virginia (VA), Washington (WA), Wisconsin (WI), West Virginia (WV), & Wyoming (WY). If you live in one of these states, we would love to hear from you!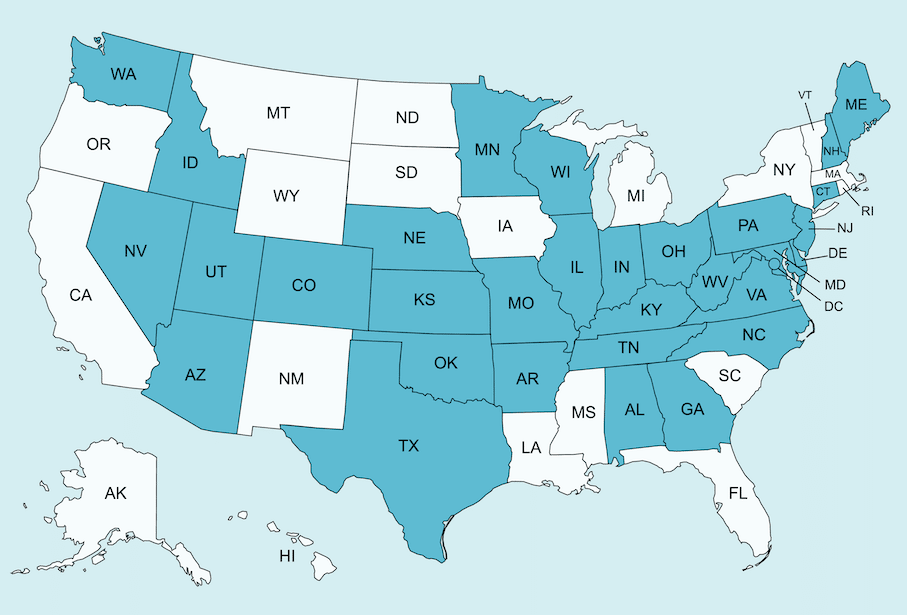 These 34 states have adopted into law the Psychology Interjurisdictional Compact (PSYPACT), which allows some psychologists to practice therapy across state lines. Licensed Psychologist Miranda Nadeau, Ph.D. enjoys forming strong connections with faraway clients.
Telehealth is a powerfully effective way to receive therapy. We are honored to provide telehealth therapy services to a wide range of folks, who benefit from:
Increased access, allowing us to reach clients who may not have had access to therapy otherwise.
Flexibility in scheduling appointments and finding a time that works best for you. This can be especially helpful for those with busy schedules or who work unpredictable or unusual hours.
Comfort in your own environment, which leads to a greater sense of comfort, safety, and connection during therapy sessions.
Increased openness: Some clients feel more comfortable opening up and sharing thoughts and feelings in an online setting, rather than in person. This can lead to a deeper level of trust and vulnerability with your therapist.
At our practice, we believe in the power of therapy to promote healing, growth, and positive change. We are committed to providing high-quality, compassionate care to each individual, couple, or group who seeks our services. If you are ready to take the next step towards a happier, more fulfilling life, we invite you to contact us to schedule a telehealth appointment.
Billing and insurance for therapy services. Please email our office to obtain information about billing options. We are in network for some Blue Cross and Blue Shield PPO insurance plans. If you have an alternate insurance provider and want to utilize your out-of-network benefits, we can provide you with SuperBill invoices to submit to your insurance for reimbursement.
Exploratory Consultation
We offer a complimentary Exploratory Consultation for potential clients interested in learning if we can match you with a psychologist who's a good fit logistically and therapeutically. During this phone consultation, we will begin the getting-to-know-each-other process, work together to identify your treatment needs and wants, and discuss what therapy together may look like. Best for clients who have already verified insurance benefits and/or payment options for our services.