Dr. Miranda Nadeau is grateful to work with clients in 32 states: Alabama (AL), Arizona (AZ), Arkansas (AR), Colorado (CO), Connecticut (CT), Delaware (DE), District of Columbia (DC), Georgia (GA), Idaho (ID), Illinois (IL), Indiana (IN), Kansas (KS), Kentucky (KY), Maine (ME), Maryland (MD), Minnesota (MN), Missouri (MO), Nebraska (NE), Nevada (NV), New Hampshire (NH), New Jersey (NJ), North Carolina (NC), Ohio (OH), Oklahoma (OK), Pennsylvania (PA), Tennessee (TN), Texas (TX), Utah (UT), Virginia (VA), Washington (WA), Wisconsin (WI), & West Virginia (WV). If you are physically located in one of these states, Miranda Nadeau, PhD is able to meet with you for therapy or assessment.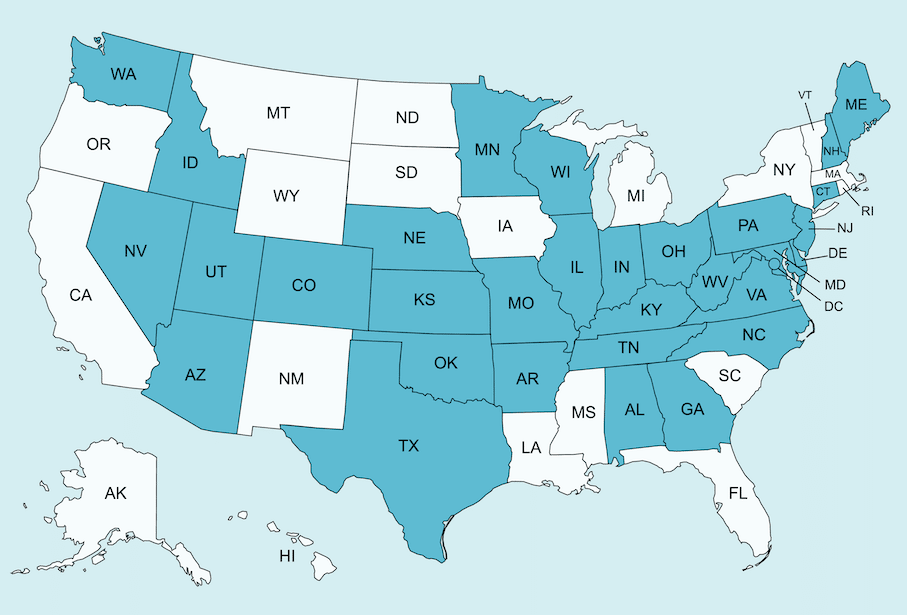 Native Land Acknowledgement
Whether we meet at the office or over video, we offer our services from the ancestral and unceded land of the Tickanwa•tic (Tonkawa) and Sana peoples, who cared for this land as their home, and the Nʉmʉnʉʉ (Comanche) and Lépai-Ndé (Lipan Apache) people, who moved throughout the region. To this day, individuals from a wide range of Indigenous backgrounds call this area home. We are grateful for the contributions and sacrifices of these peoples, the traditional caretakers of the land. We honor and thank all the Indigenous people connected to this land.
For more information about this land acknowledgment, see
this guide to honoring native land.